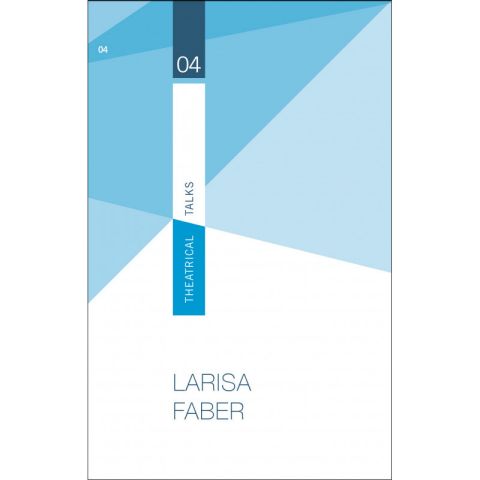 Since 2017 the Centre national de littérature has been publishing essays that allow writers to reflect on their creative process and to describe their poetics. On Playwriting (mostly) by Larisa Faber is the fourth publication in a series of essays by playwrights entitled Theatrical Talks / Rede vom Theater.
Larisa Faber trained as an actor at Drama Centre London. She writes for stage and screen, her plays including Disko Dementia (2018), stark bollock naked (published by Black Fountain Press 2019) and 340x for Die neuen Todsünden. She is currently playwright in residence at the Mierscher Kulturhaus, where she is developing Papercut, a play that revolves around one of the key figures of the so-called School Leaks Affair of 2015.
In On Playwriting (mostly) Larisa Faber uses the experience of writing Papercut as a starting point to reflect on a variety of issues, such as the specific cultural context of language, the difficulty of struggling with a challenging concept, and the proverbial and actual pram in the hallway. Gathering these aspects are questions of legitimacy and the desire to use theatre as a tool to provide sense and moral guidance.
"As a child, writing meant escapism. Then it became a futile attempt to record, to leave a trace, to feel meaningful, and not be forgotten. When I started writing for performance, I found that it stemmed from a desire to piece stuff together, working through meaning, or looking for it in situations that are too chaotic for me to comprehend otherwise. An attempt at understanding something or someone. A grasp for some causality, some sort of order."
On Playwriting (mostly) also includes essays by Tara Jaffar, Catherine Kontz, Simone Mousset and Xavier de Sousa, as well as a surprise that can be accessed via QR-Code.
Mixing reflection with a rhythmic and playful approach to writing, On Playwriting (mostly) is in itself a performance piece which should be enjoyed on many different levels.
"Hey, the Muse murmurs, see you tomorrow."

_____
71 pages
5 €
ISBN 978-2-919798-02-5
Centre national de littérature, Mersch © 2021
Das Buch ist zum Preis von 5 € im Buchhandel oder im WebShop des Luxemburger Literaturarchivs (shop.literaturarchiv.lu) erhältlich.